spirit of craftsmanshi
The Journey to Becoming a Barista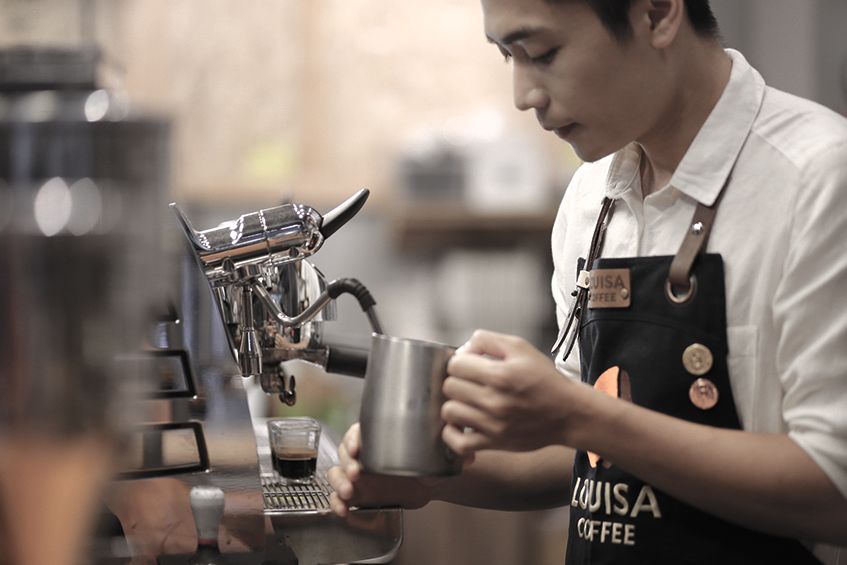 6 Sep
The Journey to Becoming a Barista
---
Every Louisa barista starts out with the basics. Keeping the store clean, putting on an apron, maintaining a neat and orderly appearance — every barista undergoes a long and fulfilling journey of learning and self-cultivation. This is because, when it comes to coffee, Louisa settles for nothing but the best. Remember, making a truly amazing cup of coffee takes a lot of work!
When a real coffee lover first walks through our door, their desire to gain professional knowledge about coffee is as clear as day — you can see it in their eyes. When our baristas are first starting out to learn about coffee, it's like they've embarked on a journey of self-discovery. Baristas are eager to get their hands on all kinds of information about coffee ranging from books and websites to videos. Becoming a barista really is an endless pursuit. Even on their days off, many of our baristas are eager to visit the Louisa Headquarters to receive advanced training, just so they can make an even better cup of coffee. In the end, it's all about finding new ways to take the coffee aficionado experience to the next level.
Learning through hands-on experience and instruction, baristas gradually refine their senses and learn what makes coffee lovers tick. Then, by applying their specialized coffee knowledge, they can satisfy the needs of each coffee lover, ensuring that every coffee bean they touch is brewed into amazing coffee and delivered into the hands of eagerly waiting coffee lovers. When collecting empty coffee cups, our baristas do so with smile and grace, because each empty cup represents the fulfillment of a beautiful journey of the senses — indeed, this is one of the proudest moments for a barista.
---