spirit of craftsmanshi
Our Robust Flavor Results from an Unwavering Commitment to the Roasting Process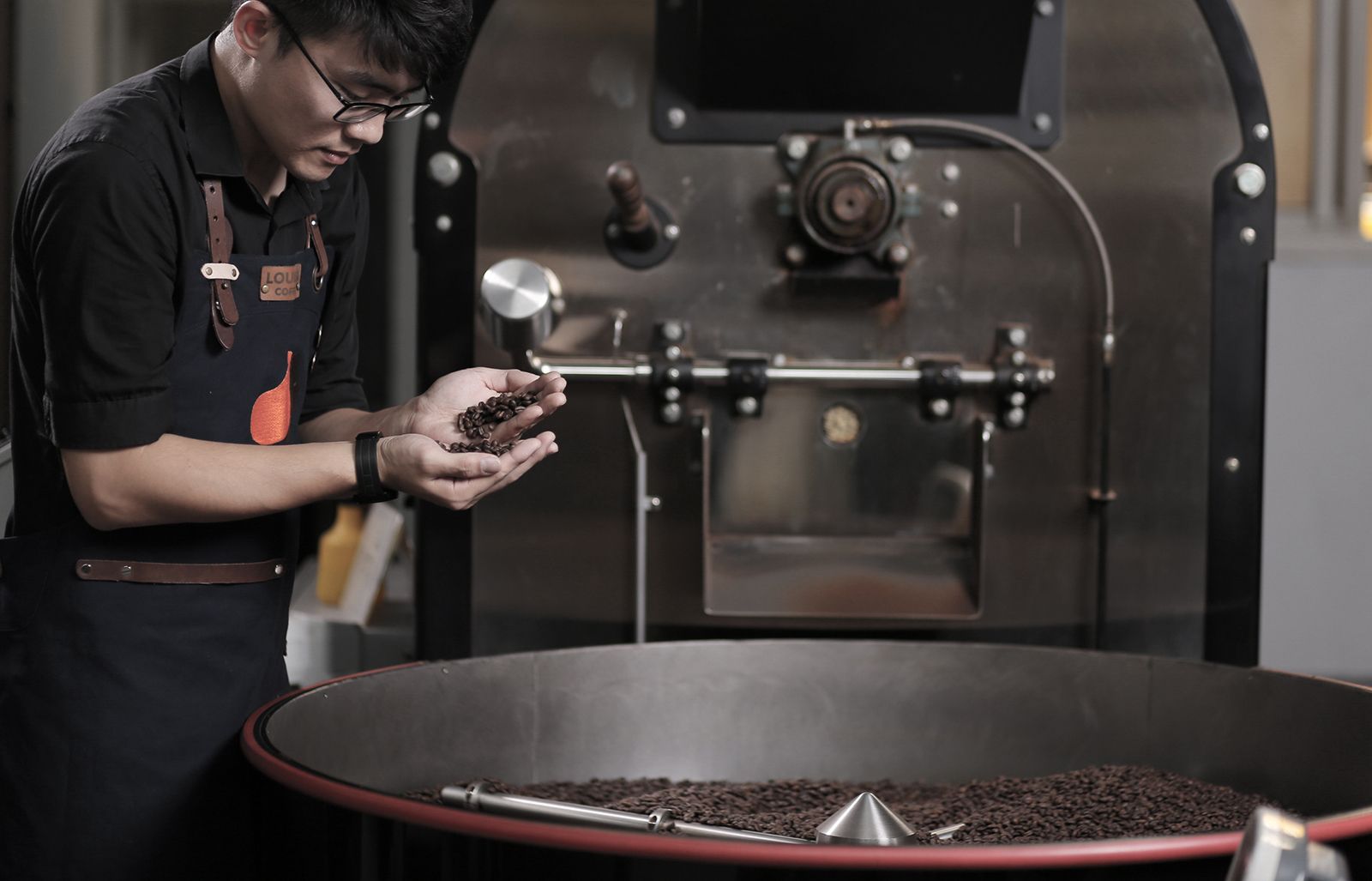 16 Oct
Our Robust Flavor Results from an Unwavering Commitment to the Roasting Process
---
Since its establishment over a decade ago, Louisa has stayed true to this ideal by independently roasting all of its own coffee beans. Each time we upgrade and expand our collection of high quality coffee roasters, it represents another step forward in Louisa's growth. The only thing we insist on staying the same is the deliciously distinctive flavor of Louisa coffee.
◆ Hand Roasted Coffee
When Louisa was first founded, the founder started out by creating and using his own roasting equipment made from a metal lunch box and milk can lid. Holding the contraption over a gas-powered stove, coffee beans were roasted using a primitive, entirely manual technique. This simple process marked the beginning of Louisa's long and relishing journey of procuring different types of coffee roasting equipment.
◆ 1 Kilo Yang-Chia Coffee Roaster
Louisa's first standardized coffee roaster was a 1 kilo semi-hot air roaster made by Yang-Chia, which was purchased when we opened our first location. Compared to roasting coffee by hand, this coffee roaster was much easier to control, allowing us to fully control the heat level and exhaust vent to produce coffee with out-of-this-world flavor.
◆ 12 Kilo Diedrich Coffee Roaster
The 12 Kilo Diedrich Coffee Roaster semi-hot air roaster provides an even supply of heat which allows us to roast coffee beans to achieve the exact flavor we desire. Featuring a dynamic burner, this roaster generates beautiful flickering flames resembling the wings of a phoenix as it delivers even and consistent heat.
◆ 50 Kilo Diedrich Coffee Roaster
Over time, our growing number of stores caused our demand for roasted beans to exceed our supply, so we purchased this 50 Kilo Diedrich Coffee Roaster. The 50 kilo roaster helped us achieve a greater degree of stability and consistency because it allows us to maintain a precise heating level in the roaster and precision adjustment of the air vent and heat level, enabling our professional coffee roasters to achieve the best roast for each bean.
◆ 15 Kilo Joper Coffee Roaster
This Joper Coffee Roaster was crafted in Portugal and features a unibody cast iron design to achieve even and consistent roasting, ensuring the beans are evenly heated and don't get burned. In addition, this roaster includes an electronically adjustable heat and air vent control design which allows us to control the roasting process to our exact specifications, yielding a smooth and pure flavor. Best suited for light and medium roasts, this is one of our keys to successfully promoting third wave specialty coffee.
◆140 Kilo Diedrich Coffee Roaster
As Louisa stores continued to spring up, we decided to acquire a 140 Kilo Diedrich Coffee Roaster, the first of its kind in Asia. This helped boost our production capacity to meet the demands of 300 locations. In addition, the roaster features a custom-made afterburner to rapidly eliminate smoke and odors, and the dosing machine allows us to meet the precise requirements of our specialty blends.
---